You can still enjoy wearing earrings even if you don't have pierced ears; the answer is to choose clip-on earrings.
Earrings are an essential piece of jewellery for most brides as they frame your face and finish off your wedding look in those all-important big day photographs.
Virtually all my earring designs can be made with clip-on fixings. I spent a lot of time carefully selecting which clip-on style worked best from a look and comfort point of view. I purchased clip-on fixings from a huge range of suppliers and spent the whole of one summer trialling them. Friends and family who didn't have pierced ears kindly acted as guinea pigs wearing the different styles and giving clear feedback on a number of key criteria;
• Comfort – what they felt like to wear and for how long?
• Security – did they remain in place?
• Look – did the earring hang correctly? Did the wearer like the appearance?
• Fit – were they easy to put on?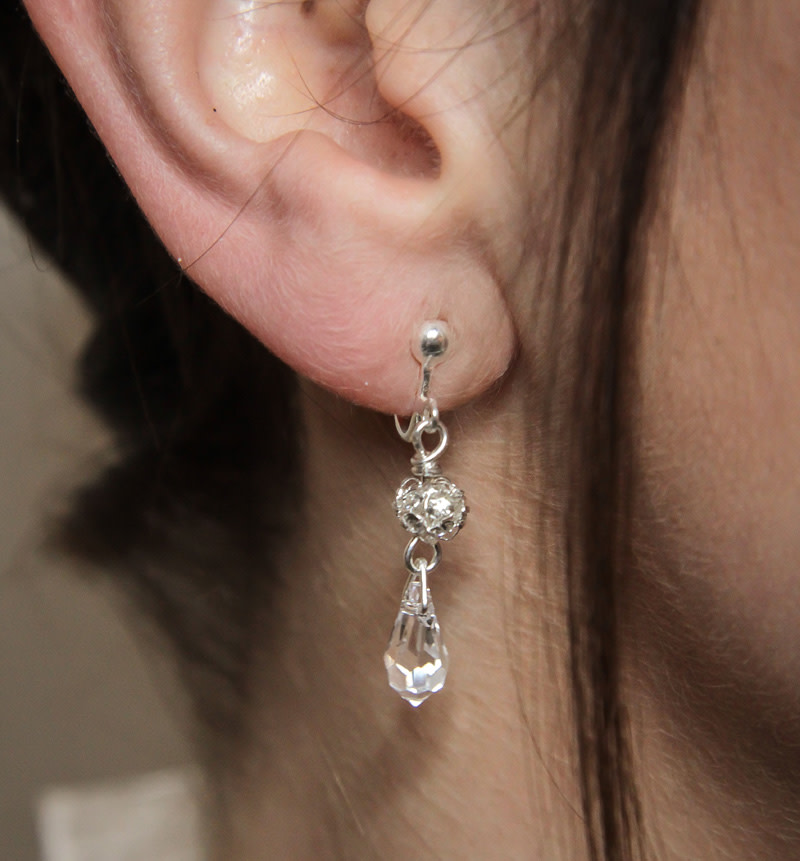 The clip-on fixings I chose are very discreet and give the appearance of pierced earrings when worn. Secure and comfortable, they are easy to put on as you simply push the two hinged sides together around your earlobe.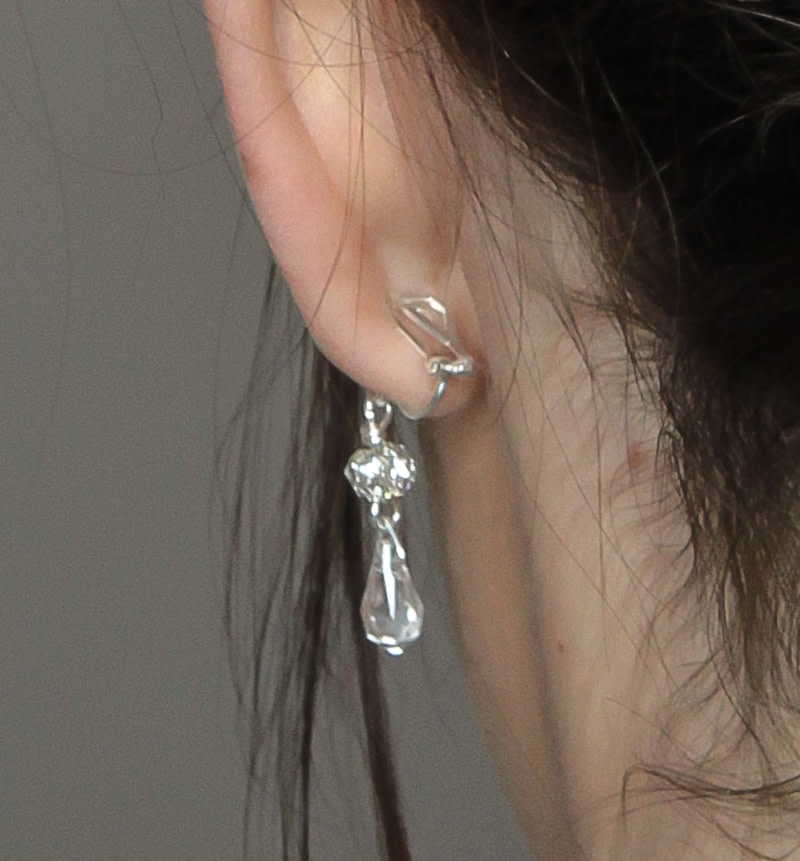 There is a small loop on the front of the fixing where the earring is attached which is the same as with fish hooks or post earrings. As with all my earring styles, clip-ons are available in silver or gold plated finish to match the earring designs.
It's Easy to order my Clip-On Earring designs
When ordering through my website you simply choose the 'clip-on' option from the drop down menu.
Clip-on earrings have the same drop as those on posts.


bridal Clip-On earrings
Beautiful bride Lawri was thrilled to find that I made my earring designs as clip-ons for non-pierced ears ...

"I had so many nice comments about the earrings and they were so comfortable I didn't even notice I had them on until 1am a whole 12 hours! Xx"
Spoilt for choice and so delighted at being able to wear earrings Lawri bought two pairs at our first styling appointment!
Increasingly brides are ordering clip-on earrings for themselves and their bridesmaids.
I get many repeat orders as customers enjoy being able to wear beautiful earrings even if you don't have pierced ears.
©Julieann Bird 03.03.18