wedding accessory styling appointment
Lots of brides-to-be book one of my extremely popular wedding accessory styling appointments. When we get together and start chatting about their wedding plans I usually find that they've chosen the wedding dress of their dreams, often spent hours on Pinterest browsing hairstyle ideas but are not sure which bridal headpiece would suit them.
Accessory Styling Appointments
How to choose the perfect wedding headpiece
Having been styling brides for over 15 years I've lost count of the number of weddings I have created bridal accessories for. I'm lucky to have so many word of mouth recommendations too that often I see brides-to-be who I've met before as a bridesmaid, sister or best friend.
But what is my secret? How do I help a bride-to-be choose the wedding headpiece of her dreams? Something that she'll love to wear, will make her feel fabulous and look out of this world in her photos.
Here are a few pointers ….
wedding dress style
Your wedding headpiece provides the link between your dress and you. It needs to enhance and compliment your dress.
Normally I suggest that elaborate gowns need simple headpieces that echo the fabric used. For instance lace fabrics look stunning with delicate hair vines that mirror the fabric pattern or with embellished lace headpieces.
Structured wedding dresses with clean lines and plain fabrics work well with statement headpieces such as tiaras and headbands.
Detailing on the wedding dress needs to be reflected in the materials used to create your headpiece; so if a bride has a diamante belt for example then she needs a headpiece that includes those glittering elements too.
Collette Pearl Tiara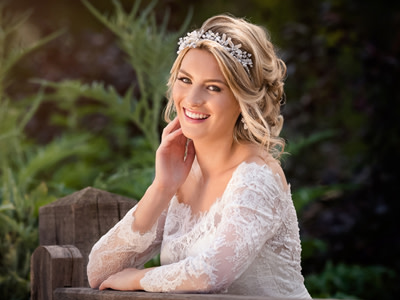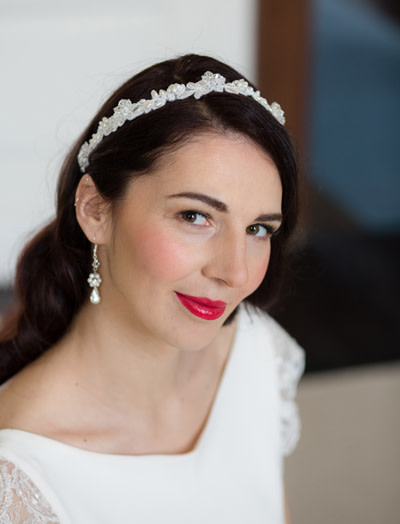 wedding day hairstyle
The decision of which wedding hairstyle can be a minefield for brides-to-be. I always reassure them that the style of their wedding dress will lead them to a particular look. Likewise, a good hairstylist specialising in wedding hair will be able to advise a bride-to-be on what will suit her face shape, type of hair and wedding dress.
I work very closely with wedding hairstylists to ensure that my bridal headpieces are easy to fix and will stay in place all day long.
I'm a very keen follower of the bridal catwalks seeing the latest designer wedding dress ranges as they are launched. I carefully design each new wedding headpiece collection so that it is right up to date with the latest trends and I have pieces to suit the latest wedding dress designs.
As every wedding headpiece is hand made to order I can easily modify a design to suit a bride's particular hairstyle requirements which offers a unique bespoke feel to my work.
Flavia Lace Wedding Headband
height and face shape
It's really important that the wedding headpiece you choose looks in proportion to your features. Petite brides don't want to look swamped with large designs and smaller bridal headpiece styles can get lost on taller brides.
Understanding a bride's face shape is key. Putting a wedding tiara on a bride with a heart shaped face will accentuate its inverted triangular shape whereas, choosing a tiara comb style instead gives the look of a tiara without adding width at the sides.
Lily Tiara Comb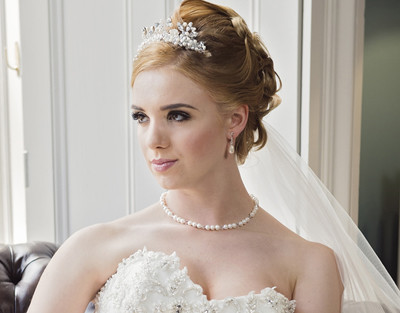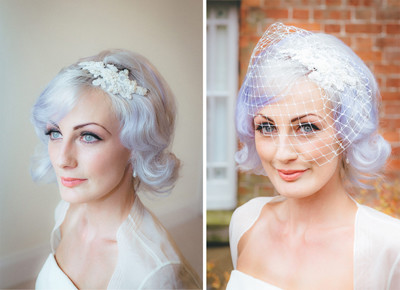 wearing a veil?
With feature wedding dress backs being a hot design trend many brides are choosing to not wear a veil. Instead they are focusing on beautiful styled hair and a statement headpiece that leaves the back of their wedding dress uncluttered.
Some brides choose to wear a veil for the ceremony only.
All of my wedding headpieces are designed so that a veil on a comb can easily be slotted into the design and removed later if desired.
Esme Lace Bridal Headpiece
Ellie Birdcage Veil
wedding theme
I'm always amazed at the huge variety of fabulous wedding styles and themes my brides choose for their weddings. I love hearing about their plans for this from flowers to stationery, venue dressing to cake choice.
I have a huge range of hand crafted wedding headpieces; something to suit every bridal style. From rustic barn weddings to beach destination ceremonies; country house elegance to chic hotel events … I have a design for every wedding theme.
Many of my bridal headpiece designs are versatile too. The embellished lace headbands can be worn across the forehead Boho style or tied round the head in the tiara position to create a romantic vintage wedding day look.
My bridal pins can be added to small combs in a cluster to create a larger design or arranged in a row giving a garland look.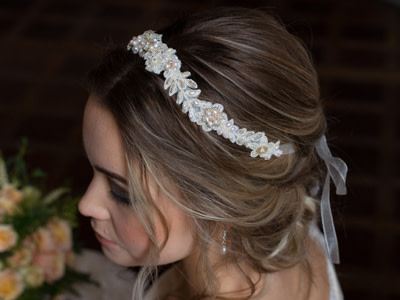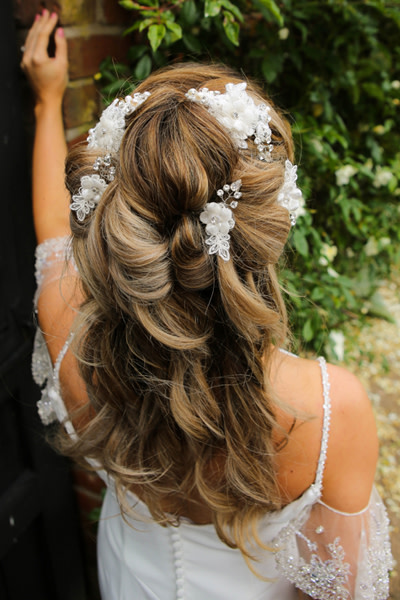 season
The different seasons provide different types of light which favour bridal headpieces made from particular materials. For example; winter weddings are perfect for glittering headpieces that reflect the cooler light.
Something Blue Wedding Comb
Lillian Lace Comb and Pins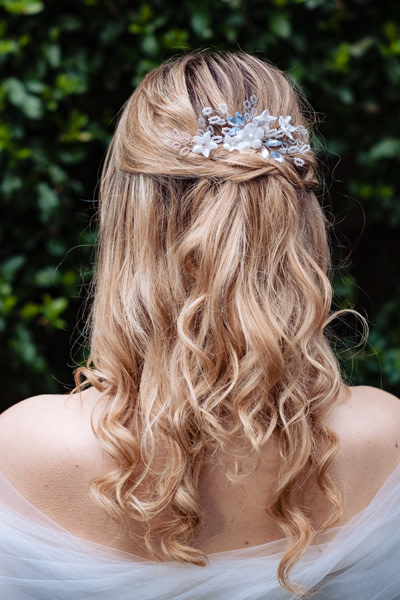 wedding location
Where you have chosen to get married is an important consideration when choosing a wedding headpiece. Chic city weddings need a totally different style of bridal headpiece to romantic country weddings.
Likewise if you are having a destination wedding we need to consider how your headpiece will travel and how easy it will be to fix it into your hair on your wedding day.


I love hearing about a bride-to-be's wedding plans. Hearing how she describes her wedding, looking at what she has already chosen as well as the bride herself along with my many years of experience; it all helps me to advise her on which wedding headpiece would work well for her.
Whether you would like to see and try my designs on at a wedding accessory styling appointment or would just like some advice over the phone or via email; I'm here to help so please don't hesitate to contact me.
© Julieann Bird 23.05.19