Build your own wedding day look with small combs and bridal pins
My new collection of small wedding combs and matching bridal pins allows brides to create a variety of big day looks. Worn singularly or together these beautiful, hand crafted wedding hair accessories are extremely versatile allowing a bride to build her own unique special day look. Please see my how to video at the bottom of this page.


Not sure how to put your wedding day look together? Here are some suggestions for how to wear the wedding combs and bridal pins:-
collection of bridal pins
Bridal hair pins offer so much scope for creating your own wedding day look. Wear them in line to create a bridal hair vine style or cluster together to give a high impact statement look.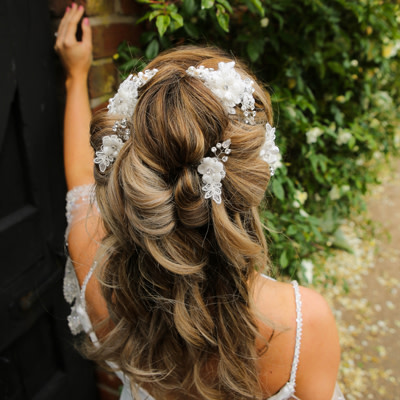 Wedding combs and bridal pins
Wearing a wedding comb and bridal pins together allows you to create a very individual look; here the world is your oyster and you can group, dot, line up, add multiples … its entirely up to each bride.
single wedding comb
The small lace bridal combs look really pretty worn by themselves and you can simply tuck them anywhere into your wedding hair.
If you are wearing a veil these slot in easily above the veil comb creating a feature at the back of your head or why not wear your wedding comb on the side framed by your veil?
Many brides are choosing not to wear a veil opting instead for a statement wedding hair style. If your wedding dress has a feature back why obscure it with a veil?
A small wedding comb draws the eye up the back of the dress, to the hair and bride's face.
Bridesmaids Pins and Combs
The small wedding combs and bridal pins make great bridesmaids hair accessories too. Carry your bridal style over to your maids; whatever wedding headpiece a bride chooses, I suggest she give her girls smaller pieces of the same design so they link in with the bride. This creates seamless, elegant wedding day styling that looks amazing in photographs.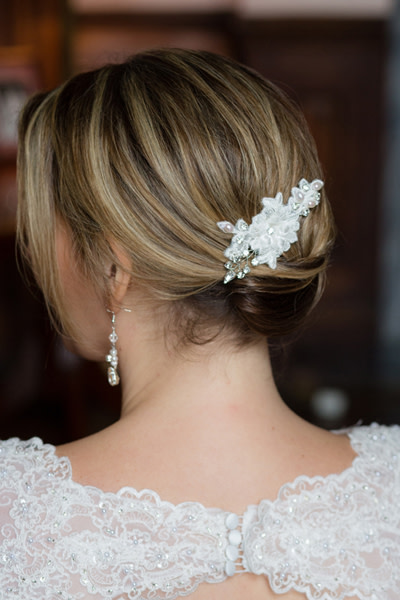 Lots of wedding hair accessory styling ideas, with my new collection of small combs and pins you can mix and match, keep it simple or make it as detailed as you like. It really is a case of your day, your way.
© Julieann Bird 18.06.19