Being deeply loved by someone gives you strength, while loving someone deeply gives you courage. ― Lao Tzu
I was moved to tears and honoured beyond words when one of my lovely brides got in touch and asked if I could make her something very special.
Bride Katie, her Mum Pam and mother-in-law-to-be Cynthia had previously visited me for a styling appointment to choose Katie's wedding headpiece and bridal jewellery for them all. We all had a fabulous afternoon together chatting about the wedding plans and sharing stories over homemade cake and refreshments.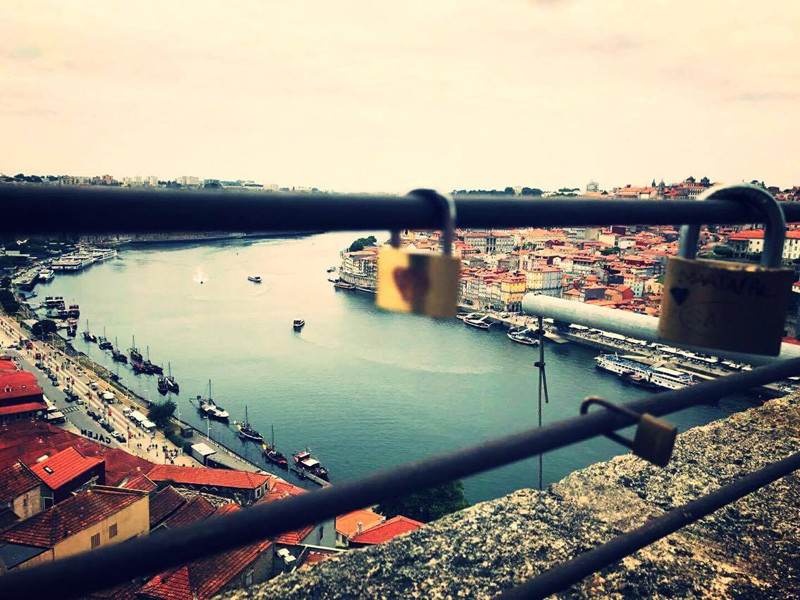 Here is Katie's story in her own words….
"I used to live in Portugal, my dad worked there and we fell in love with the city of Porto. A few days ago I went up to a high point and my Mum found a lock and key in her purse (it was my Dad's!) … it was such a special moment we put it on some railings (some other people had also put locks there) overlooking a stunning view of Porto city. I didn't have a pen or anything to write on it to make it more personal. However, the next day my lovely Portuguese friends went up, found my lock and put my Dad's name on for me.... what I would like to do is my mum has the two small keys and I was thinking somehow could I make it into a necklace for each of us... I would love to surprise my Mum on my wedding day! X"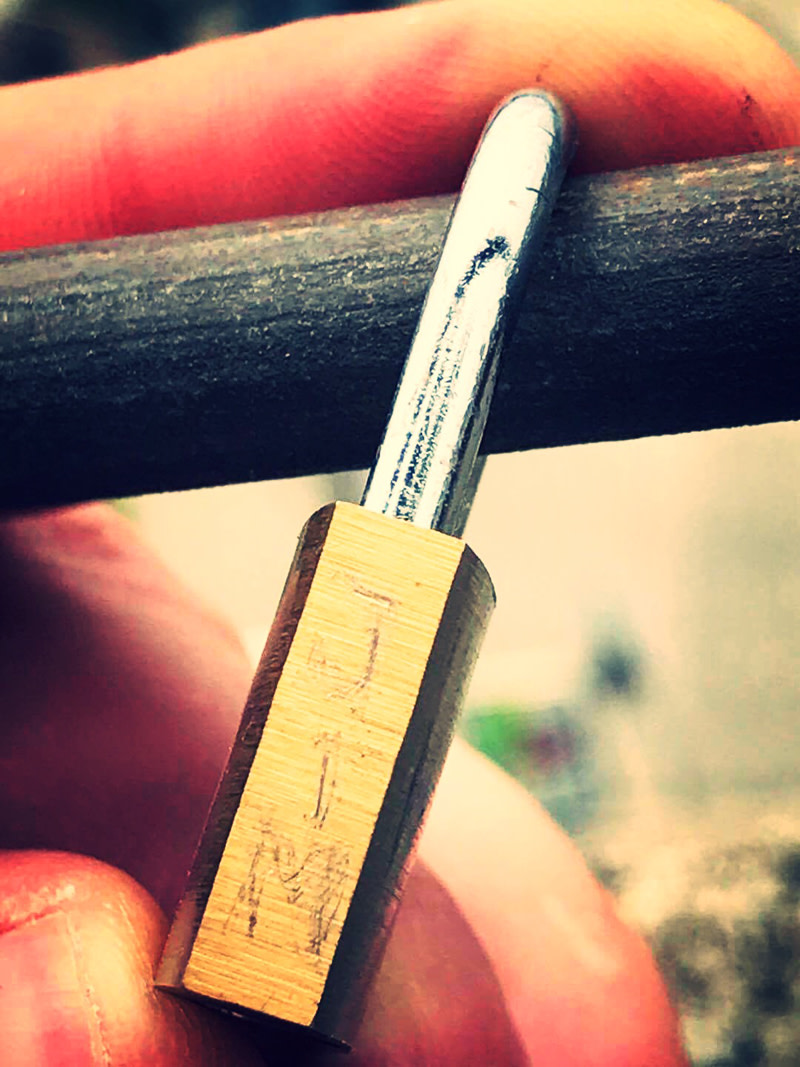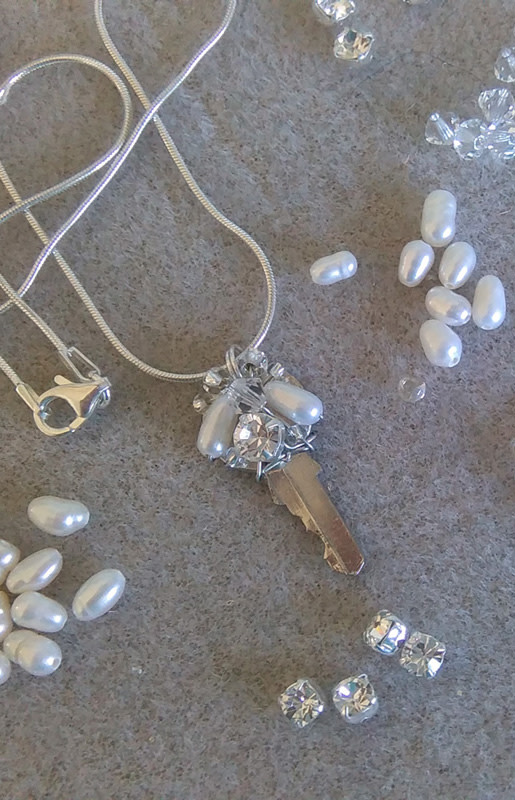 bespoke wedding necklace design process
Once the little keys arrived it seemed an obvious design choice to use the same delicate freshwater pearls, tiny diamante and twinkling clear Swarovski crystals as those used in Katie's wedding jewellery. Katie agreed and so I set to work.
Using a wire wrapping technique, I set the delicate diamante element first on the shoulder of the key then placed a tiny rice shaped ivory pearl along one side of the bow. It is really important to balance the weight of the embellishment on the key so it remains vertical when worn as a pendant. After many attempts I worked out the rest of the beading sequence so that the shape of the key was not lost but the embellished whole design worked as a piece of jewellery.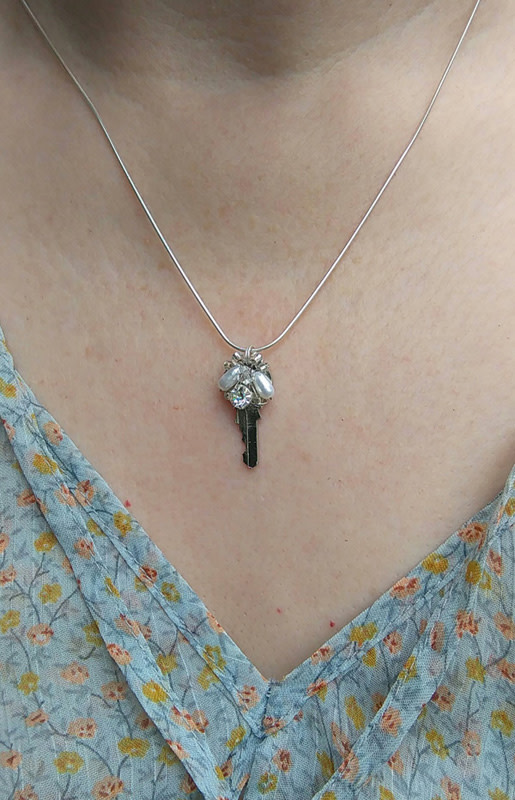 Another challenge was selecting the chain style so that it was sympathetic to the pendant design. I chose a sterling silver snake chain, the soft flexible chain resembling a piece of thread but yet it was solid enough in appearance to link in with the metal of the exposed part of key.
After sending design ideas and photos to Katie, the design was finalised and the second key was made into a pendant necklace to match the first.
I had carried these two amazing ladies in my mind the whole time I was working on their necklaces and wrote each one a personal message to go with their gift boxes. Having sent them off I waited and wondered how their 'key to my heart' necklaces would be received.


Within days Katie was back in touch …
"Honestly I can't thank you enough …I think there will be a few tears on the day … it's such a personal touch and lovely that my mum and I know who has made it! xx"
A week or so after Katie's wedding, Mum Pam made my weekend by sending this fabulous message …
"After Katie and Gary's perfect wedding day my feet have touched the ground again and I just wanted to thank you from the bottom of my heart for the fabulous job you did on the key necklace. Such a thoughtful and emotional gift and so beautifully made. I can't thank you enough and the words you wrote were so lovely.
Katie's dad was very much part of her wedding with a memory table and his very special song 'The flame still burns' by Jimmy Nail played. It was very emotional.
We were so lucky to find you and loved our visit to your home to plan the wedding jewellery. That day is very much part of our wedding memories."


I will treasure these lovely words forever; these two wonderful ladies have truly touched my own heart. What an absolute honour and privilege to be asked to create something so special and personal. Thank you both for being one of my jewellery designer highlights xx
© Julieann Bird 03.11.17

Wedding day images courtesy of Helena Jayne Photography.