As a child did you enjoy magical times playing 'dressing up'? Did you love to pretend you were a fairytale princess or a beautiful bride? Emily, like her mother before her, spent many happy hours wearing her dearest Nana's pretty wax flower wedding coronet imagining it was her wedding day. Wonderful childhood memories like these are to be treasured and have become the cornerstone of most young girl's daydreams.
Fast forward to her actual wedding and Emily knew she wanted to incorporate some of Nana's coronet into her own wedding headpiece. These treasured and very personal elements helped to make her wedding day truly magical; her own headpiece something for future generations to enjoy.


Image courtesy of PB Artworks.
Bespoke Bridal Headpiece
Having met first of all at a local wedding fayre, Emily and her lovely Mum booked an accessory styling appointment with me in my home studio. I needed to see her beloved Nana's wedding coronet to see if indeed I could re-work the wax flowers into one of my bridal headpiece designs. I was thrilled to discover that there were two types of wax flowers plus some pretty sprigs; plenty for me to work with.
Accessory Styling Appointment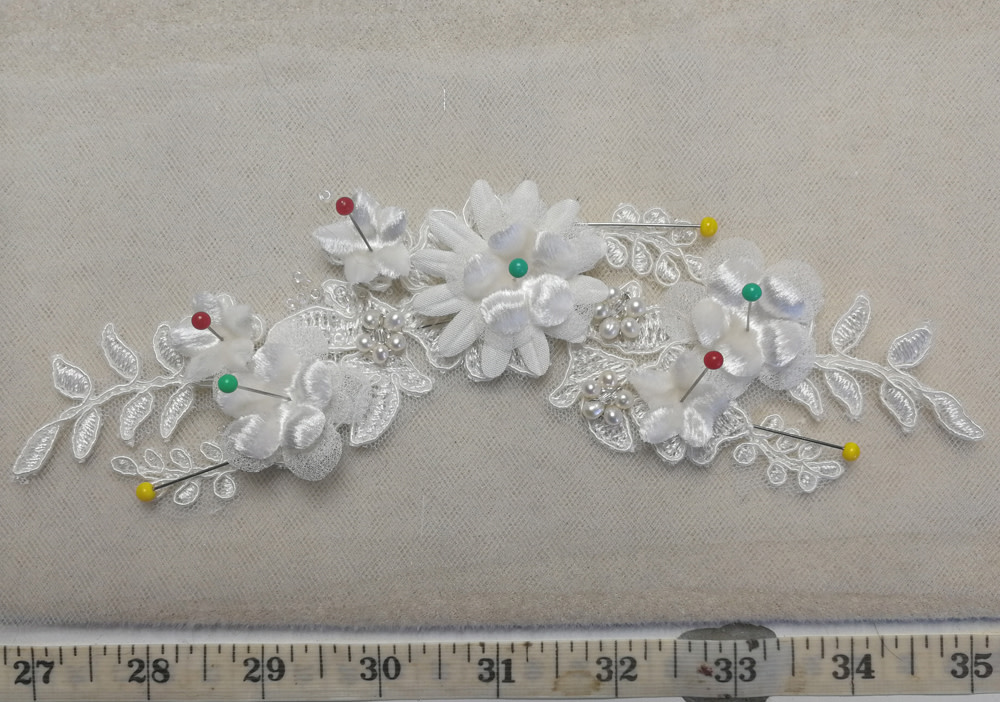 Emily tried a number of my wedding headpieces on and chose to have her bespoke design based on the Ingrid Lace Hairvine.
I then set to work choosing the lace pieces to create a symmetrical design with elements changed so I could incorporate the pretty sprigs and wax flowers. At each stage in the process I sent Emily photos of her bespoke bridal headpiece making sure she was happy with the design.
Ingrid Lace Bridal Hairvine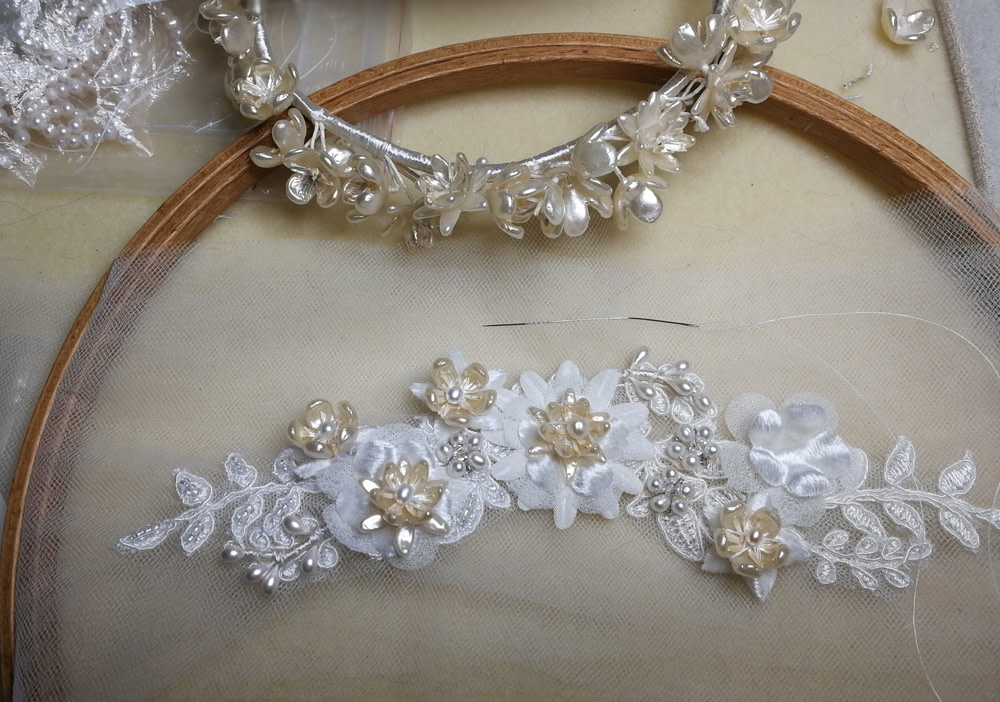 The lace pieces were then carefully hand sewn onto the backing fabric. The design was lovingly embellished with the wax flowers and sprigs which I gently removed from Nana's wedding coronet so that it didn't show and it remained intact for others to enjoy. Silk velvet and silk crepe flowers were added along with delicate freshwater pearl flowers.


The bespoke headpiece was then finished by hand sewing it onto a wire frame. This gave the lace hairvine stability, allowed it to be gently bent to fit Emily's head and provide pinning points to attach it into her hair.


Emily (and her Mum) were thrilled with the bespoke headpiece when they called to collect it. A new bridal lace hairvine incorporating elements of her beloved Nana for Emily to wear on her wedding day plus the original wax flower coronet for others to treasure.
"... it's beautiful! I love it! Thank you so much xx"
© Julieann Bird 11.02.19