On a gorgeous sunny late spring day with flower filled hedgerows and fluffy white clouds chasing across the bright blue sky; beautiful Beth and Richard were married in their pretty village church. Their elegant Shropshire country wedding was followed by a honeymoon travelling exotic destinations.
champagne bridal jewellery
It was Beth's lovely work colleagues who first got in touch with me as they wanted to surprise her with the gift of her bridal jewellery as a wedding present. I hand wrote her an invitation and was thrilled when she got in touch to book a styling appointment.

Over homemade cake and refreshments Beth shared her wonderful wedding plans. She had chosen a beautiful champagne coloured wedding dress; a lace embellished corset bodice with sweetheart neckline and a soft chiffon overlay with a pale gold underskirt.
Styling Appointments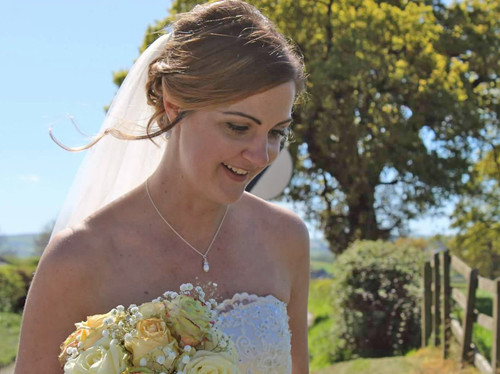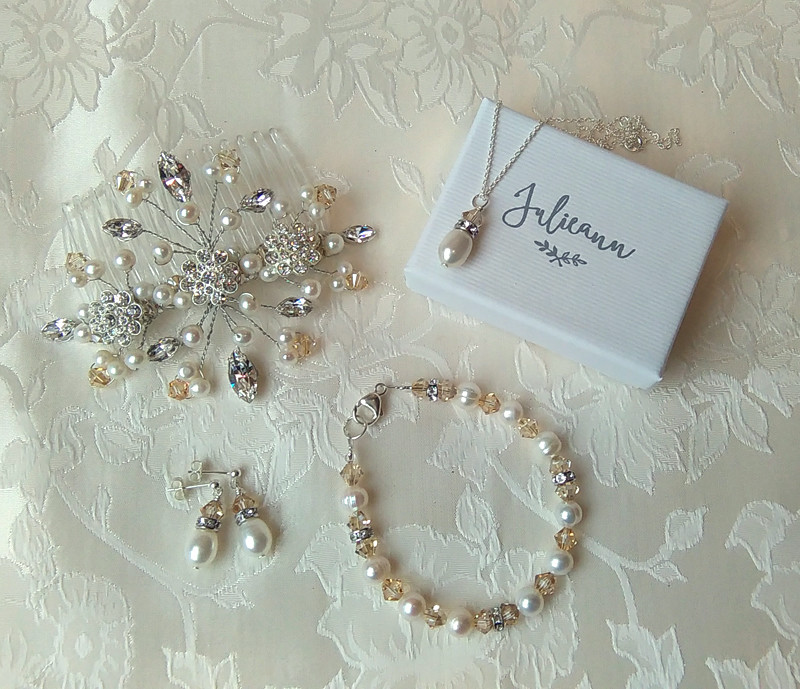 Wedding Comb
As her something borrowed, Beth was loaned a flowing long Ronald Joyce veil. With her chestnut hair worn up with teased curl tendrils at the side she was looking for a bridal comb to complete her bridal hairstyle. Beth immediately fell in love with the Sophia Comb which was colour customised by replacing some of the sparkling clear Swarovski crystals for the pale gold ones of the Carys jewellery. The comb tucked neatly on top of the veil comb providing the perfect finishing touch.
I was thrilled when Beth got in touch from the other side of the World to thank me and send me these gorgeous photos … "Thank you so much again for such beautiful jewellery, really made my wedding dress. Looking forward to wearing them again x".
Sophia Bridal Comb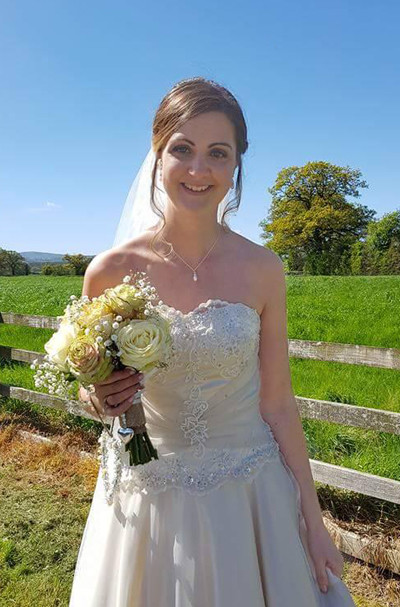 Beth was a sheer delight to work with, she looked absolutely beautiful on her wedding day and epitomised being a radiant bride. I'm so glad her thoughtful work colleagues considered me and that Beth accepted my invitation; thank you x.
©Julieann Bird 09.08.17