Barn and country weddings look spectacular with venues providing stunning backdrops that can be decorated with pretty, colourful flowers and packed with elegant rustic details.
Delbury Hall, near Ludlow in Shropshire is a perfect example of this and was the setting for our barn wedding shoot. The Georgian hall and courtyard bridal barn are set in 80 acres of breath taking countryside and are surrounded by gorgeous gardens and a beautiful lake.


Surrounded beautiful country flowers we emphasised our model bride by creating two very different looks. I chose pale gold wedding headpieces and champagne coloured bridal jewellery to add warmth to the bridal looks. You could, if you prefer, choose the ivory/soft white versions of all the designs instead.
The wonderful photos are courtesy of Tanya Flannagan Photography.
romantic Persephone gold floral crown
Our first barn wedding bridal look was soft and romantic; a floaty multi-layered ball gown wedding dress featuring a lace plunge neckline bodice from Gatehouse Brides. With her hair worn up in a pinned plait with soft trailing tendrils, our model bride had a natural looking make-up look in soft plums and pinks with a dewy glow.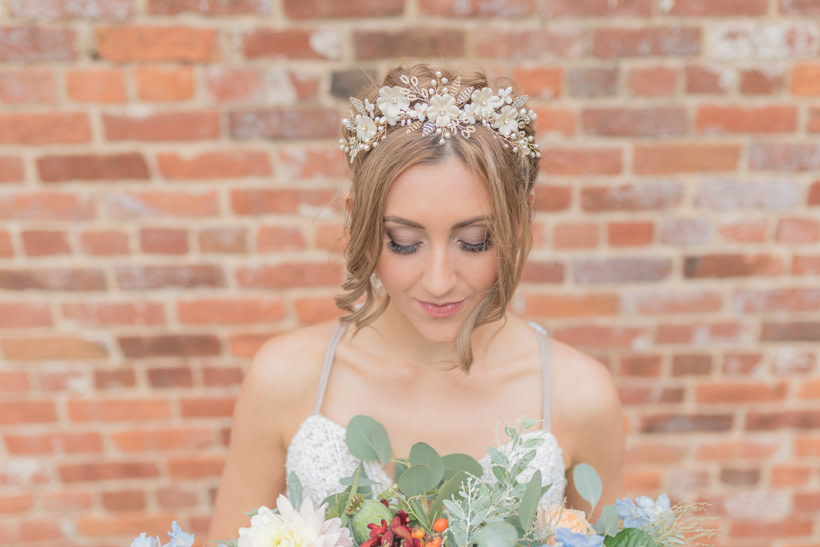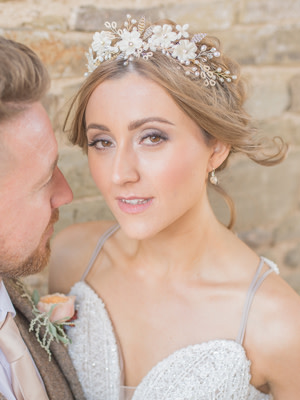 Reflecting on all the floral details I created perfect country wedding vibes by adding a champagne coloured Persephone Tiara. Created especially for this shoot with hand beaded leaves and clusters of buds, sprays of lush pearls and embellished silk flowers - what's not to love?
Persephone Floral Tiara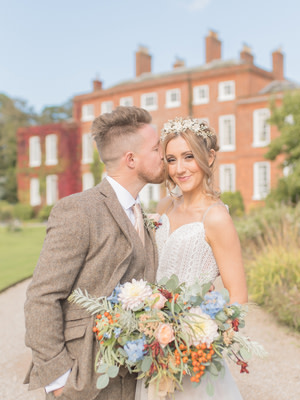 This stunning floral wedding headpiece can be worn in the tiara position or placed lower down nearer the forehead as a floral crown. The Persephone Floral Tiara also comes in an ivory/soft white version called Isabella. These beautiful floral wedding headpieces will bloom forever; the perfect reminder of your fabulous wedding day.
hetty Lace Bridal Headpiece
An alternative chic and elegant country wedding style was created with a fitted crepe bridal gown. The feature low back and shaped train were emphasised with fabulous lace panels and dainty beaded spaghetti straps.
The shape of the wedding dress back was echoed in the design of the Hetty Bridal Headpiece the bride wore in her hair.
This stunning statement embellished lace bridal headpiece simply pinned into her hair drawing the eye upwards from the hemline to feature back to the bride's head.
The Hetty bridal headpiece is lovingly hand sewn from exquisite pale gold lace embellished with champagne floral details and freshwater pearls.
Hetty adds a wonderful warmth and softness to your wedding day look; the ivory version of this bridal hair adornment is the Ingrid design.
Hetty Bridal Headpiece
Ingrid Lace Headpiece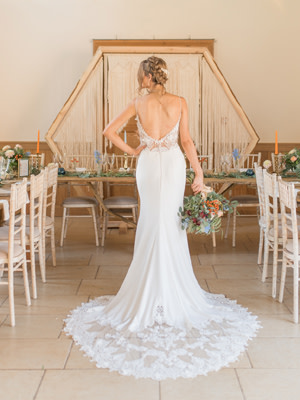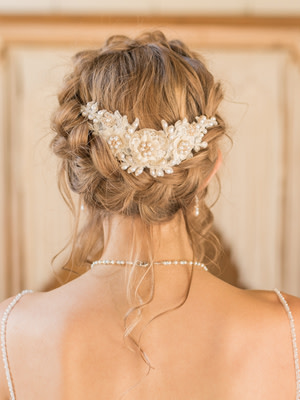 Your guests will see the back view of your wedding look as you make your vows and stand at the top of the aisle during the service.


How you appear from behind on your wedding day is really important and it should always be taken into consideration when planning your bridal styling.
Pale gold bridal jewellery
Pearl and pale gold bridal jewellery completed the bride's look. I chose wedding jewellery which added a little bit of warmth; using pale gold crystals on silver wire added a soft champagne hint enhancing the natural glow of our bride.
A single stranded Carys Bracelet made a feature of her bare arms; important for those close-up shots of her hands and flowers.
Carys Bridal Bracelet