I've met lots of lovely brides-to-be at wedding fayres recently who have asked to hear more about my popular accessory styling appointments; these are a great way to take a closer look at my bridal jewellery and wedding headpiece designs and try them on.
I thought I'd share a brief outline of how these sessions work, to see more details about what happens please see my Q&A section here.
Wedding Accessory Styling Appointments


Where do we meet?
I see brides-to-be in the comfort and tranquillity of my Shrewsbury based home (31 Preston Street, near to Shirehall and The Column). Over homemade cake and refreshments it gives you the space to chat through ideas, take advantage of my 13 years in business creating wedding accessories for 100's of delighted brides and try pieces on.
What should I bring?
I always suggest that brides book an appointment with me once they have chosen their wedding dress as we use this as the starting point for choosing accessories. It's not unusual to fall in love with a different dress to the style you thought you'd have once you start trying them on!
Bring a photo of your dress along with any hairstyle ideas (who doesn't browse Pinterest?) and I'll help you from there.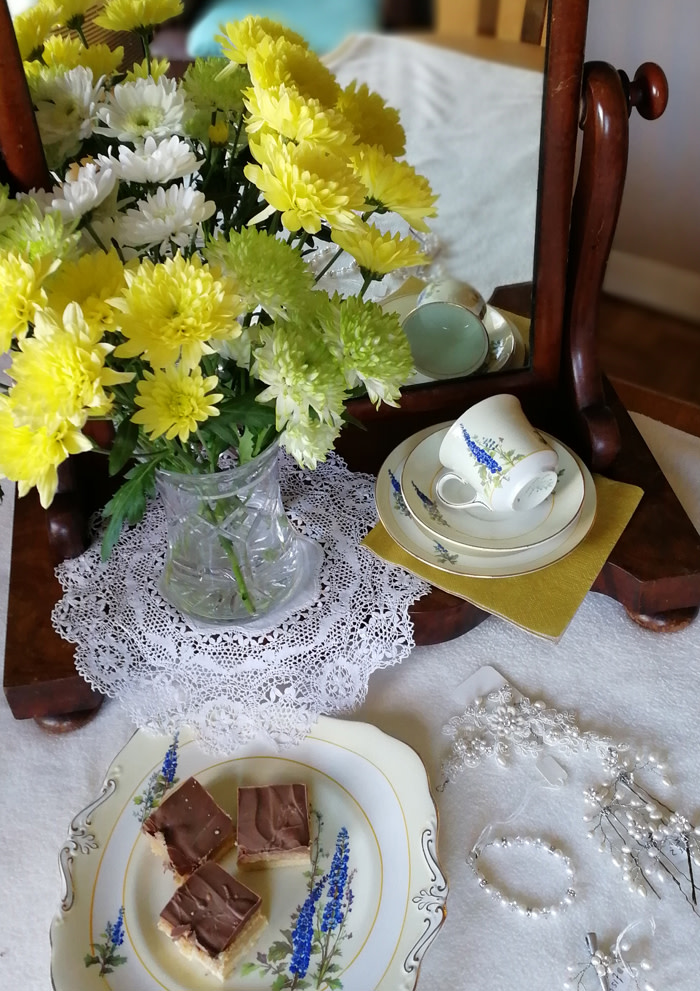 Who should I bring with me?
This is entirely up to you. Most brides-to-be bring their mother and/or head bridesmaid with them. This is a personal and precious time that needs peace and calm to try things on and think through ideas without interruption.
I can generally accommodate up to two visitors, please let us know if you would prefer to bring more people. We are happy to see grooms too!
How long does it take?
I normally allow 1-2 hours for each appointment. I'll fit in around you and I'm happy to see brides-to-be in the daytime, evenings or at a weekend.
How do I book?
To avoid a wasted journey I ask that you make an appointment first. You can either email me ([email protected]), phone (01743) 369024 or message me on Facebook.
More information
If you'd like to see more of my designs, real life brides, photo shoots and top tips please browse my website with a gallery of my brides and blog or pop over to my Facebook and Instagram pages.
© Julieann Bird 28.09.17