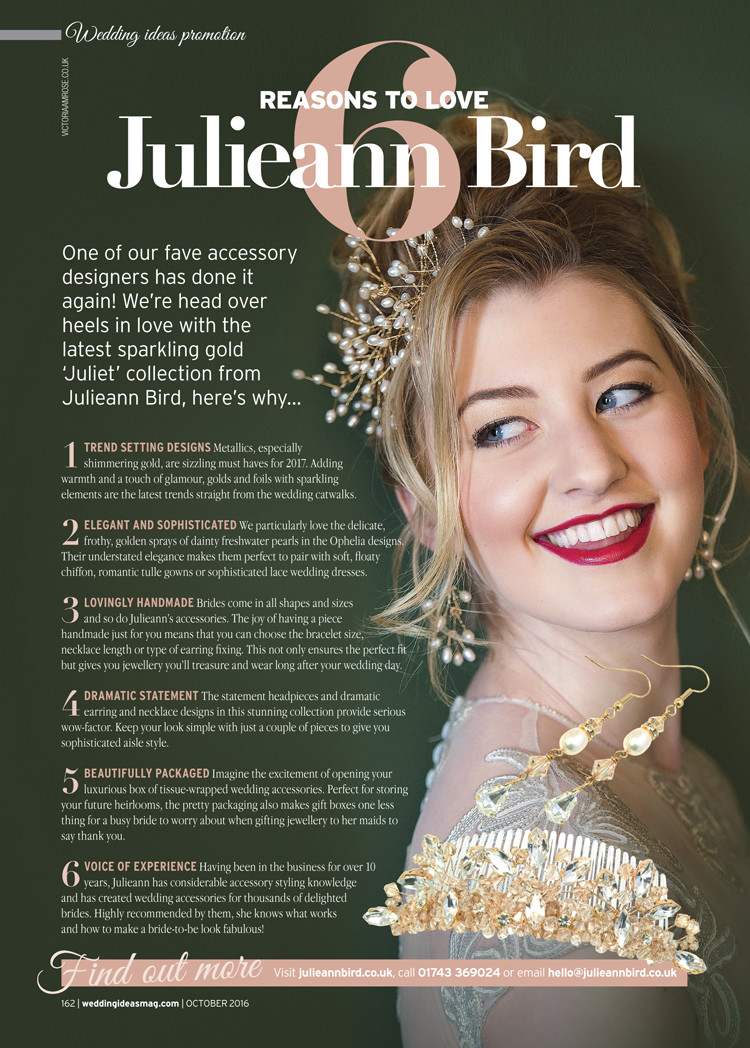 Gold Wedding Accessories Feature
It was a case of crack open the bubbly when Wedding Ideas Magazine ran a feature on our New Juliet Gold wedding accessories collection. Here's what they had to say...
"One of our fave accessory designers has done it again! We're head over heels in love with latest sparkling gold 'Juliet' collection from Julieann Bird and here's why…
1. Trend setting designs. Metallics and especially shimmery gold are sizzling 'must haves' for 2017. Adding warmth and a touch of glamour; golds and foils with sparkling elements are the latest trends straight from the wedding catwalks.
2. Elegant and sophisticated. We particularly love the masses of delicate frothy golden sprays of dainty freshwater pearls in the Ophelia designs. Their understated elegance makes them perfect for soft floaty chiffon, romantic tulle gowns or sophisticated lace wedding dresses.
3. Lovingly handmade. Brides come in all shapes and sizes and so do Julieann's accessories. The joy of having a piece handmade just for you means that you can choose the bracelet size, necklace length or type of earring fixing. This not only ensures the perfect fit but gives you jewellery you'll treasure and wear long after your wedding day.
4. Dramatic statement. The statement headpieces, dramatic earring and necklace designs in this stunning collection provide serious wow factor. Keep your look simple with just a couple of pieces to give you sophisticated aisle style.
5. Beautifully packaged. Imagine the excitement of opening your luxurious box of tissue wrapped wedding accessories. Perfect for storing your future heirlooms, our packaging also makes gift boxes one less thing for a busy bride to worry about when giving her maids our jewellery as thank you presents.
6. Voice of experience. Having been in the business for over 10 years Julieann has considerable accessory styling knowledge and has created wedding accessories for 1000's of delighted brides-to-be. Highly recommended by her brides, she knows what works and how to make a B2B look fabulous!"
To say we are over the moon is an understatement, we are really grateful to everyone who made this happen for us and from the bottom of my heart 'THANK YOU'.

©Julieann Bird 06.10.16
Ophelia Gold Hair Vine
Ophelia Gold Bridal earrings
Cordelia Gold Comb
Portia Gold Necklace
Portia Gold Bridal Earrings
Cressida Gold Bridal Bracelet